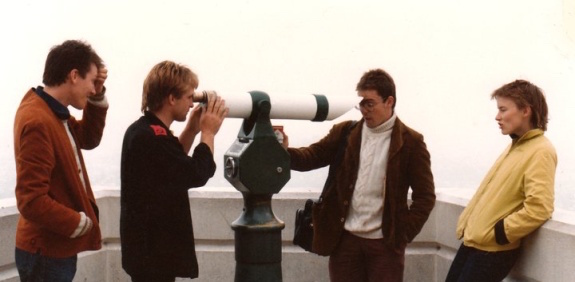 Artist Bio:
New Zealand's The Bats have gone on to influence countless bands around the world. And for good reason. From tracks like "Made Up in Blue" and "Claudine" off the band's early EPs, to later gems like "Afternoon In Bed" from 1995's Couchmaster LP, the guitars jangle with both an optimism and a deeper melancholy that lurks just below the surface. While at times their offhand vocals and melodies tell tales of indecision and despair, The Bats are masters of a sound and feeling that can only be described as joy. The Bats are one of Flying Nun's most acclaimed and loved indie pop pioneers.
Contact:
Press
Label and Rights
Originally released on cassette in 1987, Compiletely Bats gathers together this great New Zealand bands first three EPs – By Night (1984), And Here Is Music for the Fireside (1985), and 1986s Made Up in Blue. Now re-issued for the first time since 1990 and presented in a 2xLP set with bonus b-sides + demos. Comes with free mp3 download.
The 1987 debut album from The Bats, Daddys Highway, has now been re-issued and remastered. Complete with five bonus tracks from the bands early EPs, and full of the haunting beauty and bittersweet melodies the four-piece have become so loved for. From the lo-fi pop hook of "North by North" through to the gentle drone of "Tragedy", Daddys Highway displays a quietly powerful sound that immediately tugs you in. There is a quirky energy throughout – such as "Block of Wood" – that also glows with shimmering harmonies, whispered vocals, reeling bass-lines, and a sweet sense of despair that is as catchy as it is thought-provoking.
Re-issued for the first time on LP since it's release, The Bats' Law of Things showcases what that band from the south do so well, undeniable jangle indie pop. Recorded in 1988 (released 1990) by The Bats while they were back on home soil following stints of overseas touring, their second album follows on from the promise of their fantastic debut Daddy's Highway – and delivers! This re-issue comes as an expanded 2xLP set featuring their 1988 EP Four Songs, as well as never heard before studio outtakes from The Law Of Things sessions.