Reptaliens Announce Sophomore Album 'VALIS', out April 26th!
On April 26th, Reptaliens will release their 2nd LP VALIS. Today, they share a self-directed video for the single "Shuggie II", a collage of vignettes portraying various human archetypes – as they might be perceived by someone not-of-this-Earth. The Portland-based group cites sci-fi, empathy and introspection as inspirations for VALIS, a contemplative answer to 2017's analytical, outward-looking LP FM-2030. Such a switch in perspective is fitting for a musical outfit whose original modus operandi was creating music to be shared between and for the two founding members Cole and Bambi Browning (who also happen to be married).
Reptaliens' live performances are not to be missed, as one would expect from an act that has toured with the likes of of Montreal, STRFKR and Cults. This spring, they'll hit the road with Turnover and Turnstile to tour North America including stops at SXSW and Treefort. Tour dates, streaming links and more can be found at Reptaliens.com: a 3D/360 degree exploration of the VALIS album art, which is an abstract painting by Portland-based artist Bekah Abraham. Objects from the cover is realized as a clickable link – some more hidden than others.
A synopsis of "Shuggie II" from the band's Cole Browning:
"The video for 'Shuggie II' cycles through an alien's understanding of various Earthly archetypes–each one portrayed by a different band member–culled from a collection of short stories. Together, the individual characters create a Village People-type vibe and it was fun to lean into that concept and see how everyone reacted to their assigned roles. Our dog, Hambone, kept running in front of the green screen and getting in the way of shots, so we decided the only option was to add him into the video. He's chillin' with the alien because dogs are aliens too."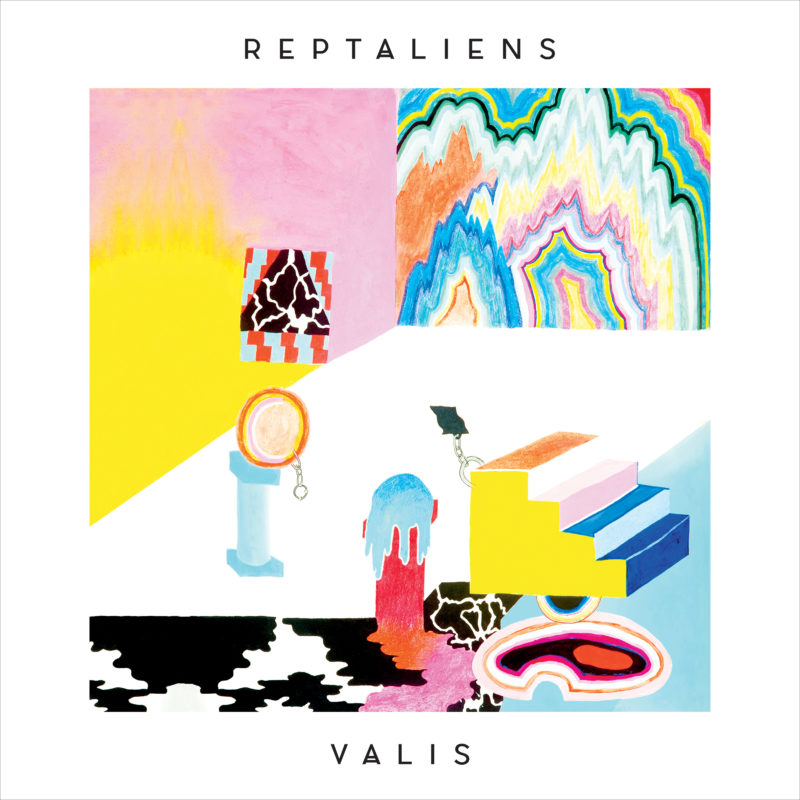 Order Valis: http://Reptaliens.lnk.to/VALIS
Listen to "Shuggie II": http://Reptaliens.lnk.to/ShuggieII
Catch Reptaliens on Tour:
03/07 – San Francisco, CA – Rickshaw Stop
03/08 – Los Angeles, CA – Satellite
03/10 – San Diego, CA – SPACE
03/11 – Tucson, AZ – Club Congress
03/12 – El Paso, TX – Lowbrow Palace
03/14 – 03/17 – Austin, TX – SXSW
03/19 – Albuquerque, NM – Sister Bar (Free Show)
03/20 – Denver, CO – Globe Hall
03/21 – Salt Lake City, UT – TBD
03/22 – 03/24 – Boise, ID – Treefort Music Festival
04/05 – Houston, TX – Warehouse Live *
04/06 – Dallas, TX – Canton Hall *
04/07 – Austin, TC – Mohawk *
04/09 – Tempe, AZ – Marquee *
04/10 – San Diego, CA – Observatory *
04/23 – San Francisco – Regency Ballroom *
04/25 – Portland, OR – Wonder Ballroom *
04/26 – Vancouver, BC – Biltmore Cabaret *
04/27 – Seattle, WA – Showbox *
04/29 – Salt Lake City, UT – Complex *
04/30 – Denver, CO – Gothic Theater *
05/02 – Chicago, IL – Concord Music Hall *
05/03 – Detroit, MI – Majestic *
05/04 – Cleveland, OH – Agora Theater *
05/05 – Brooklyn, NY – Brooklyn Steel *
05/07 – Worcester, MA – Palladium *
05/08 – Sayreville, NJ – Starland Ballroom *
05/09 – New Haven, CT – College St. Music Hall *
05/10 – Philadelphia, PA – TLA *
05/11 – Norfolk, VA – Norva *
05/12 – Baltimore, MD – Rams Head Live *
* with Turnstile and Turnover