Watch Reptaliens' "Venetian Blinds" + Catch the Band on Tour!
Reptaliens have compiled tour footage create a wholehearted video to accompany second single, "Venetian Blinds," from their new LP VALIS, out April 26. Recorded on the road during this year, the video is an earnest representation of the band's personality and chemistry, a collection of scenes that contradicts the reclusive lyrical themes found in "Venetian Blinds." This release lands between the first leg of the band's tour – which includes a slew of performances at SXSW and their Treefort Fest appearance – and their upcoming North American tour with Turnover and Turnstile.
Reptaliens say,
"Lyrically, 'Venetian Blinds' touches on a lot of themes of isolation and personal space. Bambi sings of turning off her phone and sleeping for days, and even the title alludes to the metaphor of closing the blinds to the world. However, for the video we went a completely different direction and chose to compile a bunch of tour footage we have collected over the last few weeks. On the road, we are never alone and all conversations, actions, and decisions exist only within the social unit. The two situations, isolation vs the permanent group mentality, cohesively exist within the world of the touring musician. We are always together but only in our own world. Best friends but strangers in strange lands. Wholly linked yet separated from the rest."
With their debut FM-2030, Reptaliens divulged tales from an etic: outsiders perspective of cult kidnappings, alien abductions, and sci­fi speculations towards potential future realities. On VALIS, the lense is turned inwards and, through the looking glass, the 12 tracks provides an emic glimpse towards the feelings and situations of the subjective experience.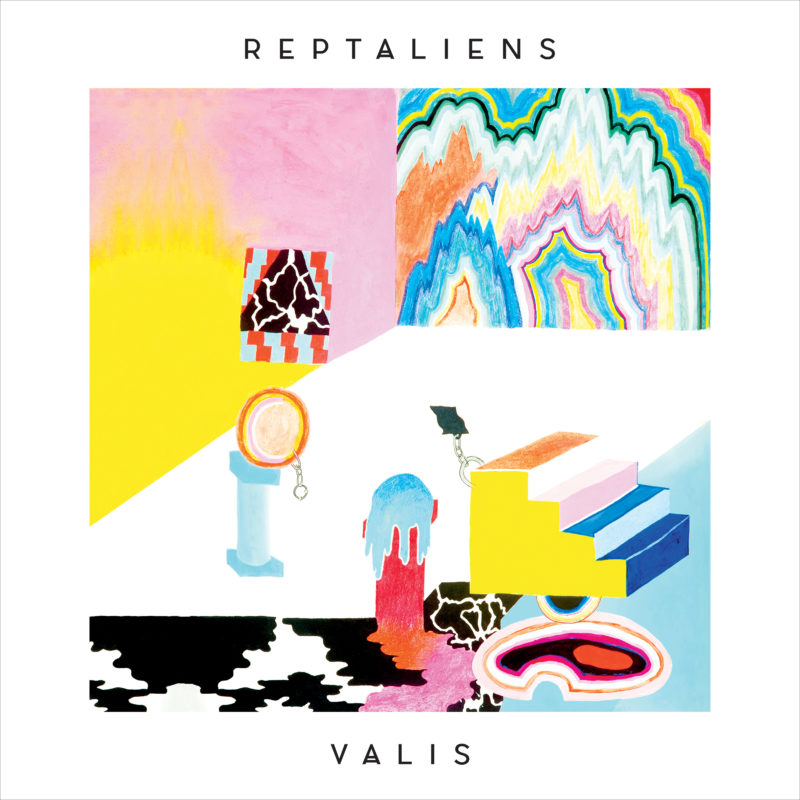 Pre-Order VALIS: http://Reptaliens.lnk.to/VALIS
Tour Dates:
03-22 – 03/24 – Boise, ID – Treefort Music Festival
04-05 – Houston, TX – Warehouse Live *
04-06 – Dallas, TX – Canton Hall *
04-07 – Austin, TC – Mohawk *
04-09 – Tempe, AZ – Marquee
04-10 – San Diego, CA – Observatory *
04-23 – San Francisco – Regency Ballroom *
04-25 – Portland, OR – Wonder Ballroom *
04-26 – Vancouver, BC – Biltmore Cabaret *
04-27 – Seattle, WA – Showbox *
04-29 – Salt Lake City, UT – Complex *
04-30 – Denver, CO – Gothic Theater *
05-02 – Chicago, IL – Concord Music Hall *
05-03 – Detroit, MI – Majestic *
05-04 – Cleveland, OH – Agora Theater *
05-05 – Brooklyn, NY – Brooklyn Steel *
05-07 – Worcester, MA – Palladium *
05-08 – Sayreville, NJ – Starland Ballroom *
05-09 – New Haven, CT – College St. Music Hall *
05-10 – Philadelphia, PA – TLA *
05-11 – Norfolk, VA – Norva *
05-12 – Baltimore, MD – Rams Head Live *
* with Turnstile and Turnover